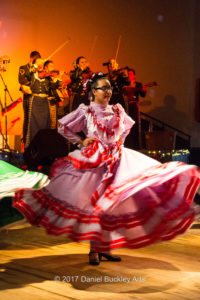 In the age of Trump few things are more important than showing the power of Mexican Americans to transform their communities. That's exactly what The Mariachi Miracle is about – illustrating how, beginning in days of segregation, the Mexican American community turned to its own culture to create solutions to its own problems. And in the process they transformed the social, economic, political, educational and artistic fabric of Tucson.
We're heading into the most intense and critical phase of the final months of production on the film and book project. Ahead is more documentation of mariachi music and folklórico dance programs in schools, filming of school performances, shooting graduations, summer mariachi camps and covering the year's big event – the 35th anniversary of the Tucson International Mariachi Conference. The big events come in rapid succession from here out.
And just as we enter this critical phase we are WAY short on funds to hire extra help, rent gear, keep transcriptions of interviews rolling and acquire the basic hard drive space to store and back up what's being shot.
More than ever we need the help of folks like you to tell this vital story of self reliance, creativity, transformation, pride and place.
Every little bit helps, and if you aren't in a position to provide financial support, please share this link with your friends. And visit mariachimiracle.com to learn more about the project and the wonderful things going on, not just here in Tucson but throughout the United State.
Thank you so much for your help! Know that your contribution will aid in telling one of the most vital and underreported stories in U,S. education today.
Donations to the GoFundMe campaign are not tax deductible. But there is a way to give that is. Go to http://www.mariachimiracle.com/support/ for more on that.
And to learn more about the overall scope of this film and book project go to:
Thank you again for your support at this critical time.