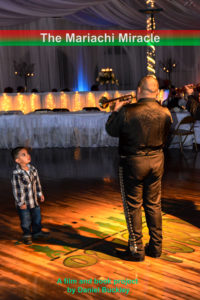 An all-star mariachi and folklorico dance fundraiser for The Mariachi Miracle will help kick start post production for the film and book project.
"Filming is presently wrapping up," said producer/director Daniel Buckley. "Very shortly we will be transitioning to the editing and post production phase, with plans to release both the film and book in 2018."
The project, which began filming in late 2011, traces the social, economic, political, educational and artistic impact you youth mariachi and folklórico dance programs in Tucson, Arizona.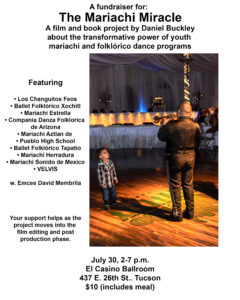 "The lineup for the fundraising event at El Casino Ballroom on July 30 in many ways illustrates the artistic growth ongoing in Tucson as our city becomes a leader in the American youth mariachi and folklórico movement," Buckley says. That lineup includes Mariachi Estrellas, Ballet Folklórico Xochitl, Mariachi Los Changuitos Feos, Compania Danza Folklórica de Arizona, Mariachi Aztlán de Pueblo High School, Ballet Folklórico Tapatio, Mariachi Herradura, Mariachi Sonido de Mexico plus VELVIS – the world's only Velvet Elvis impersonator.
"The Mariachi Miracle has been a labor of love that opened my eyes to the transformative power of these youth programs in both private hands and our school systems," Buckley says. "Doors are being opened that are positively impacting our city, state and nation in myriad ways.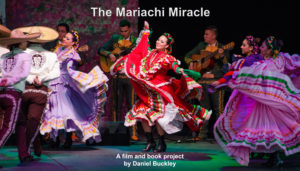 "We are grateful to the Tucson community for its generosity in sharing its stories of how these youth programs have intertwined with our city's evolution over the past half century. Now it's time to celebrate and move to the next phase to share this important American story with the world. We ask Tucson's help to make that happen."
What: A Fundraiser for The Mariachi Miracle film and book project
When: July 30, 2-7 p.m.
Where: El Casino Ballroom (437 E. 26th St.)
Donation: $10 at the door (includes a meal and the show)
For more contact Daniel Buckley by phone (520-260-4176) or email (dbtucson@gmail.com ) or go to www.mariachimiracle.com
Attn. press: Print and broadcast quality photos and video links are available on request. Contact Daniel Buckley at dbtucson@gmail.com.
To donate to The Mariachi Miracle click here.