"My vision is for the public, apprentices and professional musicians to develop and further promote this valuable musical tradition, Mariachi!" - A.P.
The Paulino Dynasty (Mariachi Mariachi Tapatio De Alvaro Paulino), The Mariachi Conservatory and Union join to promote the beauty and splendor of Mariachi music in the Big Apple, New York City!
Based out of Brooklyn, NY and founded in 1983, Mariachi Tapatio de Alvaro Paulino takes pride as "The Northeast's Finest Mariachi from New York City" and serving as role models for the future generation of Mariachi musicians (men and women) in New York City and the rest of the Northeast. Mariachi Tapatio offers musical prowess with an ensemble comprised of remarkably talented musicians with an immense desire to promote the beauty and splendor of mariachi music.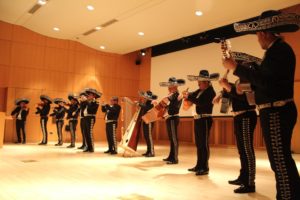 Since 1983, New York's Mariachi Tapatio de Alvaro Paulino has not only been captivating audiences throughout the New York Tri-State Area, but also other states and countries with their energetic shows, strong vocals, stirring melodies, and masterful execution of classical, traditional, and contemporary arrangements alike. Mariachi Tapatio appeals to audiences of all generations and heritages.