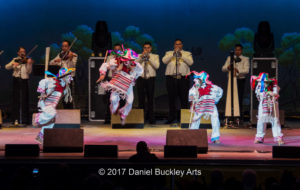 Click photos to enlarge
One week after its debut at the Tucson International Mariachi Conference's Espectacular Concert, the buzz is still strong about Ballet Folklórico Infantil de Colima.
No one expected that a group of children under the tutelage of the great Universidad de Colima folklórico dance program might make such a powerful impression alongside such greats of the mariachi world as Mariachi Nuevo Tecalitlán and former Mariachi Vargas singer Rafael Palomar. But this extraordinary group EARNED the only standing ovation of the night with am exciting performance that combined discipline, individual and collective virtuosity, consummate showmanship, charisma and panache.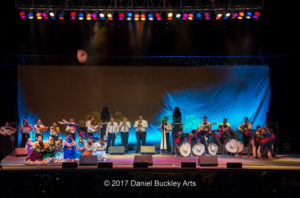 Ably backed in three appearances by Tucson's Mariachi Sonido de Mexico, the group's showcases at Tucson High School and TIMC's Espectacular and Garibaldi concerts was not in any way kid stuff. The repertoire performed was of a completely professional level and delivered as such, served up in regional costumes of color and detail that celebrated Mexican culture of five different areas of their diverse home country. The choreography was at once fast-moving sculpture and painterly display, the various elements moving into place with clocklike precision and supple grace.
Every detail was impeccable. The dancers moved as one where the choreography called for it, and as elements in a broader moving picture as needed. The sheer athleticism and excitement they brought to the choreography was top notch, and the sound of their boots pounding the stage as one deafening.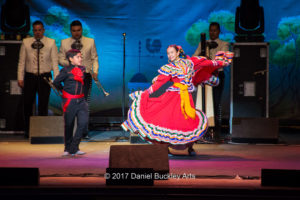 To do so takes training and commitment of an extraordinarily high level, and their instructors and parents are to be congratulated as much as the dancers themselves because they are the driving forces that inspires such a group to become such a powerful force.
The impact of this group's Tucson premiere will play out in the years ahead. Like Linda Ronstadt's Canciones de Mi Padre and Mas Canciones CDs which inspired young Mexican American mariachi students to double down on their craft, so young folklórico dancers from Tucson and beyond who witnessed Ballet Folklorico Infantil de Colima's performance will see themselves in these performers and work much harder to perfect their own technique. I would also predict that we will see more folklórico groups from Tucson and beyond wanting to come to the Tucson conference to learn from the Colima masters and show their stuff at the Student Showcase concert. Moreover I suspect that there will likely be a reexamination of folklorico dance' place as a concert draw, and that in the future we will see more top folklórico companies recruited to co-headline the Tucson International Mariachi Conference.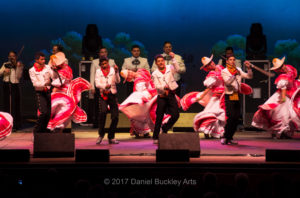 I hope that for the children of Colima, the 45 hour bus ride to Tucson will have been well worth it. I hope they will see how appreciated and revered they became, and what an inspiration and eye-opener the group has been on so many different levels. Videos from their performances will be shared and watched by many around the U.S. and Mexico. And their fame as catalysts to a resurgence of folklórico dance will grow in the years ahead.
The ripple effect of this spectacular debut will go on for years to come and likely will spin outcomes that could never have been predicted. But I will be happy to be able to say for years to come that I was there to witness it when this wonderful group created a big bang on Tucson stages.
A couple of final notes. First, it was wonderful to have the director of the Universidad de Colima folklórico dance program – maestro Rafael Zamarripa – back at the Tucson conference after several years away. Though confined to a wheel chair these days, watching him oversee the sound check of all of the dancers left no doubt that he is at the peak of his creative powers. His ability to, with just a few words,  fix even the smallest details and inspire young dancers to give their everything was amazing to watch. And though I'm sad to say I missed it, I am told that at the workshops he gave an inspiring speech that captivated all within earshot.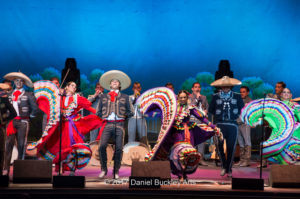 Zamarripa's entire team of dance instructors inspired by demonstration. With every step and turn they set the standard for excellence, and even the best teachers and performers from around the U.S. had their eyes glued to them to see how better to master their own craft. You saw it in great detail in the performance of Ballet Folklórico Tapatio's performances at the Student Showcase and the Espectacular. Always one of our city's top groups, they stepped up their game considerably in response to the Colima team. All of us will benefit from what was taken away from this year's workshops and performances.
Finally, kudos to Mariachi Sonido de Mexico for its work with the infantil dancers. Each of the three dance showcases required a different arrangement of the musical repertoire, and the musicians delivered with crisp, focused articulation and non-stop energy to fuel the dancers' pyrotechnics.
My great hope at this point is that Ballet Folklórico Infantil de Colima will be received upon its homecoming as the dance superstars that their Tucson fans know them to be.
Ballet Folklórico Infantil de la U de C regresa de exitosa gira en Arizona