Click photos to enlarge, video to play
For over 35 years the mariachi has been the soundtrack to my life in Tucson, as it has for my city.
I have watched several generations grow from talented young mariachis and folklórico dancers into teachers, doctors, lawyers, scientists, engineers, musicians, administrators, politicians and more. Barriers to higher education and economic opportunity have been shattered along with stereotypes and social structure.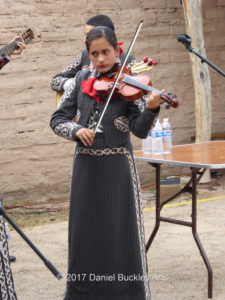 In many ways these young musicians and dancers have become my children and grandchildren. Their families and friends became my family and friends. They shared their hopes, fears and dreams with me even as they performed at church, in weddings and funerals, fiestas and quinceañeras, birthdays, concerts, community fundraisers, historic gatherings and appearances for the elderly and infirm. Theirs has been the sound of transformation in my community and my heart.
For over five years now it has been my honor to document for The Mariachi Miracle this remarkable movement through interviews and the filming and photography of countless events. And at times when I look back through my archives I see familiar faces that have matured since the days when these fresh-faced kids jammed at the Tucson International Mariachi Conference or performed around town.
You come to love these kids as your own and loudly applaud they as they graduate and move on in their lives.
Mariachi Los Changuitos Feos (the Ugly Little Monkeys) figures heavily into all of this. Founded in 1964, it is the longest continuously active youth mariachi in the United States, and very likely its first. It was the first to start a scholarship program for its members – something copied by groups throughout Tucson, Arizona, and the U.S.
Generations of "Changos," parents, board members and teachers have sat before my camera to tell the ongoing saga of the venerated and still musically mighty group.
Among those of the latest generation was a bright young violinist and singer named Victoria Arias – Tori to her friends. She caught my eye a long time ago, and grew stronger and more confident over the years, steadily rising up the ranks to become a valued soloist and ensemble singer. But more than a musician, she was bright and charming and funny and dedicated as all get out. People naturally flocked around her, and when you met her family you knew why. The apples had fallen very close to the tree. Mike and Lorena Arias worked hard for every member of Changos and the whole mariachi community, and wee equally beloved.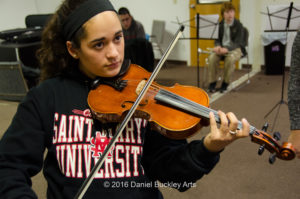 In the fall of Victoria's senior year I sat down with her and her parents to get their stories. Mike and Lorena were very proud of her and her sister Desiree, who had also been involved in the music. Mike shared a story about Victoria writing an essay for her college application to her school of choice – St. Mary's University, where she hoped to study pre-med and go on to become a surgeon. He told me how deeply moved he was to read her cogent summation of her life-changing time with the Changos.
At the close of my interview with her I asked her to read it to the camera. It was extraordinary. I told her that if they didn't give her a full scholarship after reading that, she should go somewhere else as clearly they could not see real potential.
But they did. A few months later she received word that she had been accepted with a truly full scholarship – tuition, books, room and board. Everything covered.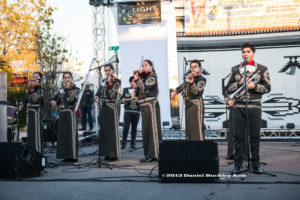 There was to be a glorious send off party at the Arias home on August 5th, and they were kind enough to invite me. But on July 10, tragedy struck. Victoria's body was found at the bottom of the family pool. She was rushed to the hospital where for two days prayers from the city and around the mariachi swarmed over her and her family.
Friends visited around the clock, hoping she might wake up. But it was not to be. On July 12, a little after 3 p.m. she was pronounced dead, and what had been intended to be a prayer gathering at her old high school turned into an impromptu memorial. The whole mariachi community had turned out, holding candles and weeping in grief.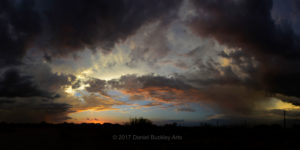 As the service let out the sky lit up with a wall of sunset fireworks as if to send her soul off with the splendor it deserved.
Her organs were donated to others in need, and the young future surgeon found ways even in death to give life to others. A funeral mass will be held for her on Friday, July 21 at 10:30 a.m. at San Augustin Cathedral.
I spent the whole week digging through my archives for photos and footage, trying to organize for what was unthinkable. In the end I decided to use her essay as a way of remembering the person she was, illustrating her words as best I could with images and footage from the archives, and bookending that spoken chunk with a few choice examples of her artistry.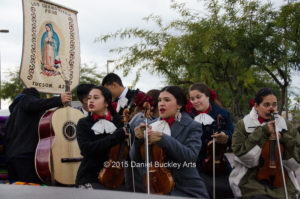 While this is a task I never wanted I'm happy to have been able to give her the final word. This vast archive intended to service The Mariachi Miracle film and book project will eventually be turned over to the Tucson community and beyond through the Arizona Historical Society, the University of Arizona Library Special Collections division and the Library of Congress. Within it are stories of an important chapter of American history, and of the extraordinary people who made it happen.
Victoria Arias was such a person. Though her life was short, her influence on her friends, family and the community will have ripple effects for years to come. And she will live on in the hearts and memories of those who knew her.
– Daniel Buckley, Producer/director, The Mariachi Miracle